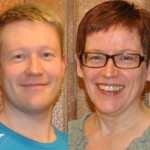 Pálin Olsen & Rúni Gaardbo: Play and games in the pool
Why play, when kids are suposed to learn how to swim. We going to show you
different games/activities at different levels in the pool, reaching the
goals of fun, learning and safety for everyone.
Pálin Olsen
Education: Teacher since 2001, Speciality in reading, 2009.
Assisting in teaching/coaching swim school since 1996. Headcoach for the
swimschool in the Swimclub Flot since 2004. Instructor in Faroe Islands Swimming Association swim
school program since 2007.
Rúni Gaardbo
Education: Teacher since 2003 (Speciality is sports)
Teaching/coaching all levels swimming since 1993 in the swimclub
FLOT. Since 1995 as headcoach. National junior team coach 2008-2009. Assistant National Junior team coach 2010. National talent team coach since 2011. Instructor in the Faroe Islands Swimming Association Swim School program since 2007.