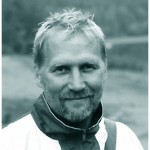 Ilkka's Lecture is called: Life saving  with noodles using problem solving method.
It´s not easy to find a person whose work and hobbies are as much tied with water as Ilkka's Keskinen are. 
Ilka is a lecturer in Jyväskylä University in Jyväskylä, Finland and his main teaching field is aquatics.
At the Conference Ilkka will also show his Photo Exhibition, Atlantis
As a photographer Ilkka Keskinen (born 1952, Finland) started his career in documentary photography during 1970's continuing with subjective and night photography.
Ilkka Keskinen started to explore underwater photography in mid 80's and has achieved lot of publicity with his surrealistic style in Finland and abroad.
He has exhibited over 20 solo and numerous group shows.
Atlantis, statement about work:
With my photos I express the feelings which arouse when you go underwater. You can describe those feelings with numerous words: beauty, harmony, silence, weightlessness, fear, danger, drowning, and death.
Underwater world fascinates both kids and adults; unknown world is waiting for everyone to discover its secrets.
Below an example of Ilkka's Art